Archive for category Dating Advice For Women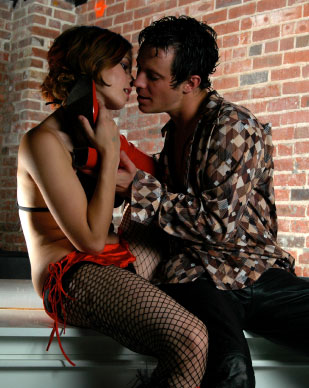 Meet Locals Blog is back today with 10 more ways in how to seduce your guy. The fact of the matter is that your guy probably adores the hell out of you. But, might he be bored? Let's not even boredom enter his mind as we continue to explore 10 Ways To Seduce your Guy Part #2. We have yet another bag of tricks for you to use on your man that he will just adore, love and lust over. You'll have him on his toes constantly as he looks forward to your next sexy and naughty move…
Here are 10 Ways To Seduce Your Guy Part #2
1. While having dinner at one of your favorites spots, reach under the dining table and subtly outline the shape of his member. While you do this, look at him in the eyes until you'rr done with your outline. His jaw will surely drop.
2. Wear a little cock tail dress, something simple and sexy with a zipper on the back. Go out and do your thing. When you get back home, ask him to unzip your little black number- let it drop to the floor and reveal that the entire time you were wearing nothing at all beneath. He's going to go mad with your bad girl ways!
3. If you're out and at a noisy club or bar, with your finger motion him to come closer so you can tell him something in his ear. Instead, run some chills down his spine as you kiss, lick and breath warmth into his ear. Be prepared, he might call it a night and be ready to take you back home and make sweet love to you.
4. If you wake up in the middle of the night to use the bathroom, come back to bed entirely naked. Next, you might wake up to your hunky dude pawing away at your body.
5. If you get stuck in a rainstorm, make the best of it. Take off your raincoat and let your shirt get soaked. When he opens the door, he'll be so happy to see you and get you out of your soaked garments.
6. If you enjoy doddleling. You don't have to be no Van Gogh, just doodle a picture of a man doing doggy style for example to a woman and title it: "What I Want You to do to me Tonight." Sneak your X-rated doodle into his pocket. Once he discovers your work of art, he'll only have you and your booty on his mind all day long.
7. Guys just love thongs. Don't wear them all the time in an obvious way, because it will become a norm, but every so often wear your snugged, favorite jeans and be sure to give your thong a little breathing space mainly so that your guy can steal peeps at your sexiness.
8. Serve some yummy breakfast for your honey. Make it yummier by letting him chow down his breakfast off your naked body. You'll both enjoy desert and that's for sure!
9. After coming back from the gym and being all sweaty and sexy, tell him how much you were thinking of him inside of you while you were on the treadmill. Prepare yourself to have to purchase a new sports bra!
10. Hand wash one of the smallest underwear garments you own and put it to air dry by his cologne or tooth brush, somewhere where he will surely see it and fall into a state of pure ecstasy as he stares at the tiny piece of fabric as he imagines how it looks when you wear it.
Well, we've just given you another load of sexy ways to seduce your guy…Just like the first list, this list consists of clever and sexy ways to get your man's full attention and have him lusting over you all the time. These are all simple little things you can do that can shoot your relationship into the stars. Again, we leave it up to you to take these tips and put them to good use. Tune into Meet Locals Blog for 10 Ways To Seduce Your Guy Part #3, our final list of off the chain ways to seduce your man!