Archive for category Celebrities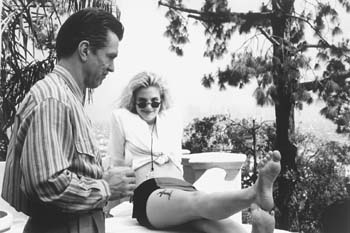 Remember Drew Barrymore back when she was a child actress, "Wow, she was such a cutie!" How about back in the late 80's and early 90's where she took on racy roles such as the characters she plays in "Poison Ivy", "Doppelganger" and "The Amy Fisher Story?" She then went on and continued throughout the nineties like a harmless wild child, dressing all groovy and flashing the occasional late night talk show host. Drew Barrymore was able to get away with her funky styles and wild antics, because she was sweet, loving and genuine. In the last decade or so, that Drew Barrymore that we all loved so very much since her days as being a child star are nothing but a shell. What we have now is a big time Hollywood mogul with an ego bigger than Texas.
Drew Barrymore is now married to some schmuck that knocked her up and inside sources all say that she's blissfully happy, in love and cannot wait to be a mom. There's nothing wrong with that, naturally… Every woman unless she's bitterly insane wants love, sometimes marriage and definitely a baby. So, why is everything that Drew Barrymore does so fishy? My theory is that she's a fake! Either she was a fake when she was a cool chick in the 90's or she's a fake now.
People grow up and evolve, Drew completely changed! There isn't a speck of the good, old Barrymore left in her fiber. The latest news is that she can't wait to be a mom, so she can basically exploit her baby daughter (Rumors are she's expecting a baby girl). Unlike some other celebrities and regular folk that have dignity and it's their natural instincts to protect their young from intruders and everything else, Drew Barrymore can't wait to make her unborn child a super star. She wants to take tons of photos of the baby and splash them in as many magazines as humanly possible.
Isn't that something? Drew Barrymore or the creature she has become does not have any regular pregnancy cravings or even a strange Pica. This woman is going around with her bundle as she strategies on how to bank on her baby girl. Without a doubt, Drew Barrymore is nothing but a sell out, prego celebrity with no scruples at all.
Let's hope her little daughter does not end up emancipating when she's a mere teen to get away from her mother like Drew Barrymore once did with her mother. Shame on you Drew, first you sold out by wearing makeup for ad campaigns tested on animals in 2007 and now you're just a Hollywood lush with no principals or morals!